About The Tarot Guild of Australia
The Tarot Guild of Australia (TGA) represents a community of Tarot enthusiasts, readers and teachers from across Australia and worldwide and provides a great avenue for like-minded people to connect and discuss all things tarot – something we all love to do! The TGA is a membership-based organisation, offering those with an interest in Tarot the opportunity to become Interest or Professional Members.
The primary aim of the TGA is to raise public interest and awareness of the Tarot, to promote the study of the Tarot, to maintain ethical standards in the practice of reading Tarot via professional certification and to provide a network for further education and sharing information amongst members. The TGA offers Tarot events and workshops in major Australian cities and provides an opportunity to connect and network with like-minded individuals while learning about the Tarot.
It doesn't matter if you are new to tarot or a seasoned professional – we have something on offer for everyone!
You can join either as an interest member or as a tarot professional.
Please take the time to read through our site and make sure you check back regularly, as we have many exciting events on the horizon.
October 21, 2020: An Interview With Fern Mercier
In Anne's interview, Fern takes us through the Major Arcana journey for 2020. When she discusses judgement, she discusses Ruth Bader Ginsburg, and this illustration of the Justice Card by Lily Williams.
About Fern Mercier – In Her Own Words
"It all started when I found my first deck of tarot cards on my OE in the early 1970's at the British Museum.
I've been practicing my twin passions of Astrology and Tarot for nearly 40 years. I am a professional reader, teacher, consultant, writer and educator in both disciplines. Auckland city, New Zealand is my home base.
I have a Bachelor of Arts in History and English from Otago University (1968). I discovered tarot in the early 1970s whilst in Europe and my first deck of cards was a 16th century woodcut reprint.
My year-long Diploma Tarot Course has been running for 25 years and is particularly popular and absorbing. It is suitable for all tarot players – beginners and old hands enjoy the group experience and learning. Many students return for a second or third year, as they love having other tarot people to talk the language and share readings.
I have been a Star Signs columnist for many publications including The Sunday Star Times and Rainbow News, and contributed to books, magazines and other publications."
Latest News
It is wonderful to see the Wheel of Fortune and The Sun starting to appear in readings over recent weeks as we approach the end of this year and welcome the next.
Events and Workshops
The Tarot Guild of Australia holds regular events and workshops.
As the year comes to a close, the TGA Committee and Group Coordinators are
working hard to schedule more great workshops in Brisbane, Perth, Sydney and Melbourne – for both in-person and on Zoom.
Be sure to check back with us in January to see what will be happening near you.
We expect it will, indeed, be a very HAPPY NEW YEAR!
What's on in Melbourne
6 February @ 1:30 pm

-

3:30 pm
This event is a live webinar on Zoom. We are very pleased to extend an invitation to everyone, regardless of where you are. COME AND JOIN US! Click below for details and to register.
What's on in Sydney
There are no upcoming events at this time.
What's on in Perth
13 February @ 11:00 am

-

1:30 pm
This unique presentation will give you practical guidance on how to interpret your own and other people's numbers so you can understand yourself and your loved ones with greater clarity, depth and a...
What's on in Brisbane
There are no upcoming events at this time.
TGA Professional Accredited Tarot Readers & Teachers
Looking for a professional Tarot Reader and/or Teacher located in Australia or Internationally?
Click the links below to find a professional Tarot Reader and/or Teacher in your area:
Interested in becoming a member of
the Tarot Guild of Australia Inc.?
Are you new to Tarot and eager to learn?
Do you like being part of a friendly group of like-minded Tarot enthusiasts?
Do you have a vision of transitioning to become an accredited TGA Professional member?
To find out more click here …
If you are not a Tarot Guild Member already you can subscribe for FREE monthly email notices about TGA Workshops & Events
Blog
It is wonderful to see the Wheel of Fortune and The Sun starting to appear in readings over recent weeks as we approach the end of this year and welcome the next.
Your Committee has been working very hard behind the scenes and we are thrilled that you all are so supportive of our new initiatives being our online presentations and interviews.   It is heart warming to see some familiar faces joining in...
I would like to say a huge thank you to the fifty members who attended our online AGM and Melbourne's first online presentation via Zoom.  It was a great success and confirmed the passion our members have for Tarot.   If you were unable to attend (and be part of the presentation "2020 Our Year of Judgement" which followed the short AGM meeting)...
COMING SOON!
Tarot
Ca

rd for the Day
The Magician or The Magus is the first trump or Major Arcana card in most traditional Tarot decks.
Astrological Moon Phase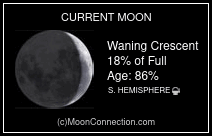 The lunar phase or phase of the Moon is the shape of the directly sunlit portion of the Moon as viewed from Earth. The lunar phases gradually and cyclically change over the period of a synodic month (about 29.53 days), as the orbital positions of the Moon around Earth and of Earth around the Sun shift.
Tarot Guild Shop
Click here to purchase workshops, lectures, and Issues of The Magician from the online Tarot Guild shop.