About The Tarot Guild of Australia
The Tarot Guild of Australia (TGA) represents a community of Tarot enthusiasts, readers and teachers from across Australia and worldwide and provides a great avenue for like-minded people to connect and discuss all things tarot – something we all love to do! The TGA is a membership-based organisation, offering those with an interest in Tarot the opportunity to become Interest or Professional Members.
The primary aim of the TGA is to raise public interest and awareness of the Tarot, to promote the study of the Tarot, to maintain ethical standards in the practice of reading Tarot via professional certification and to provide a network for further education and sharing information amongst members. The TGA offers Tarot events and workshops in major Australian cities and provides an opportunity to connect and network with like-minded individuals while learning about the Tarot.
It doesn't matter if you are new to tarot or a seasoned professional – we have something on offer for everyone!
You can join either as an interest member or as a tarot professional.
Please take the time to read through our site and make sure you check back regularly, as we have many exciting events on the horizon.
June 19, 2020: Interview with Avril Price
June 6, 2020: Interview with James Wanless,  creator of the Voyager Tarot Deck.
James takes us on a "JOURNEY TO RE" – Re-cover, Re-bound, Re-start and Renew, using the beautiful  images of the Voyager deck.
May 18, 2020: Using Your Tarot Cards for Self-Exploration and Self-Care
a presentation by Breed Barrett, Professional Member, Tarot Guild of Australia
May 7, 2020: Interview with Rachel Pollack, Tarot Grand Master and Honorary Member, Tarot Guild of Australia
Latest News
In place of our usual monthly meetups, I hope everyone has enjoyed the interviews we have been able to put up on our website during this social isolation period. Going forward..
Events and Workshops
The Tarot Guild of Australia holds regular events and workshops.
What's on in Melbourne
6 June @ 2:00 pm

-

4:00 pm
Due to concerns about COVID-19 and Government advice, this workshop has been cancelled – to be rescheduled at a later date.
What's on in Sydney
9 July @ 6:30 pm

-

8:30 pm
***MEMBERS ONLY*** DUE TO COVID AND LIMITED NUMBERS -- Continue exploring your journey through 2020 using a few of our favourite spreads and looking at timing techniques.
What's on in Perth
4 July @ 12:00 pm

-

2:00 pm
We will consider some aspects of Tarot through the lens of an astrological point of view, facilitated by Becky Newell, who has a long-standing interest in the interaction of the two modalities.
What's on in Brisbane
3 July @ 7:00 pm

-

9:00 pm
In this presentation Isabel will talk about the origin of dreams, why we dream, and which dreams are significant and why. You will have the opportunity to try different spreads with which to analyse y...
TGA Professional Accredited Tarot Readers & Teachers
Looking for a professional Tarot Reader and/or Teacher located in Australia or Internationally?
Click the links below to find a professional Tarot Reader and/or Teacher in your area:
Interested in becoming a member of
the Tarot Guild of Australia Inc.?
Are you new to Tarot and eager to learn?
Do you like being part of a friendly group of like-minded Tarot enthusiasts?
Do you have a vision of transitioning to become an accredited TGA Professional member?
To find out more click here …
If you are not a Tarot Guild Member already you can subscribe for FREE monthly email notices about TGA Workshops & Events
Blog
When I do Tarot readings for clients, I often talk about using the skills and abilities of a particular Tarot Card, or Tarot Archetype to help them achieve a certain goal, or outcome. This can be done quite simply. Often I will provide a suggestion or two on how they might begin to do that in an every-day kind of way. Therapists and coaches who practice the art of nuero-linguistic programming (or NLP) talk about modelling as a way to gather new skills.  When described without any elegance, Modelling can sound like it is a monkey see, monkey do, or fake it till you make it set of behaviours. Those who follow a Pagan path or are into Magick, sometimes speak of 'raising' a particular energy. Either way, focussing on the skills or 'state' that you want to be in, allows you to have more, or be-come more, of that. As Tarot Readers we know that each Tarot card has a story of its own, and when you align with the story, you can begin to move into the story, and access the useful elements or aspects of the central character or theme. Meditation and guided visualisations can be
In place of our usual monthly meetups, I hope everyone has enjoyed the interviews we have been able to put up on our website during this social isolation period. Going forward..
To protect our Tarot Guild members, the Committee have decided that we need to cancel meetings in all States from now until the end of April.    We can then reassess as the situation develops. Our intention in cancelling meetings is, of course, to keep all our community safe.
COMING SOON!
Tarot
Ca

rd for the Day
The Magician or The Magus is the first trump or Major Arcana card in most traditional Tarot decks.
Astrological Moon Phase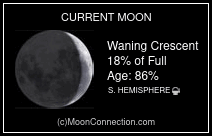 The lunar phase or phase of the Moon is the shape of the directly sunlit portion of the Moon as viewed from Earth. The lunar phases gradually and cyclically change over the period of a synodic month (about 29.53 days), as the orbital positions of the Moon around Earth and of Earth around the Sun shift.
Tarot Guild Shop
Click here to purchase workshops, lectures, and Issues of The Magician from the online Tarot Guild shop.